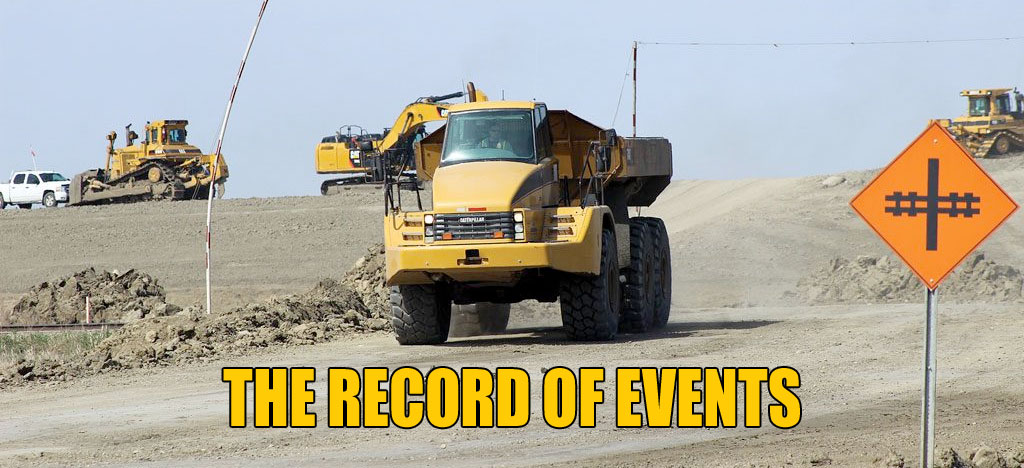 DID YOU KNOW?
Our recently completed bypass cost more than the Coquihalla highway in B.C.?
The original estimate of $400 million dollars has grown to over $2 Billion?
A large part of the cost appears to be due to speculators who have influenced the relocation of the bypass to benefit them alone
Others were deliberately left out of discussions and had their properties annexed by the city
Strategic land sales to developers took place before the altered Regina Bypass Plans were made known
The city in turn paid these developers multiple times what these properties had been sold for shortly before the new plans were announced.
Before the new Regina Bypass plans were announced, at least one civic employee was able to form partnerships with outside investors to purchase land which was later sold back to the government for far more than was paid to landowners in the same areas at the time
We know from these transaction records who these 'profiteers' were, but what we don't know is how they got the information in advance that positioned them to negotiate such exorbitant profits?
We are now $800 Million dollars over the original estimate.
Finally, both the premier and his deputy resigned mid-term shortly after these land deals took place. Premier Wall had signed an order in council for $21 million dollars to purchase land recently acquired from Bill Boyd's landlord. The optics of this are poor to say the least!
Saskatchewan taxpayers have been left holding a very heavy bag!
HIGHLIGHTS OF EVENT LEADING UP TO THE REVISED PLAN FOR THE NEW REGINA BYPASS

The Regina Regional Highway Planning Study recommends Gravel Pit road as the East Terminal for the Regina Bypass The Regina Regional Highway Planning Study recommends Gravel Pit road as the East Terminal for the Regina Bypass

The Regina Road Network Plan Review, completed for the City of Regina, suggest that Tower Road should be considered as the East Terminal .

Ministry of Highways begins to consider Tower Road as a potential East Terminal because of the City of Regina study

The Southeast Regina Bypass Functional Study evaluates the benefits and costs associated with placing the East Terminal at Tower Road or Gravel Pit Road

A detailed Southeast Bypass Location plan is developed based on the results of the 2004 functional route study

The Highway No. 1 East Functional Planning Study is completed based on the assumption that Tower Road is the East Terminal

A Four Day Meeting with Tower Road Land Developers results in relocation of the East Terminal 400 M to the East of Tower Road, effectively overruling 20 years of studies
This was enough evidence for us to start our movement;
HIGHWAY ROBERY / The Regina Bypass Land Scandal / WHY TOWER ROAD
THE 'NEW' PLAN UNFOLDS DESPITE PROTESTS

Others noted contradictions in the explanations…
The following content is copied from the Sask Ministry of Highways website which includes this article from MURRAY MANDRYK, THE LEADER-POST 08.10.2015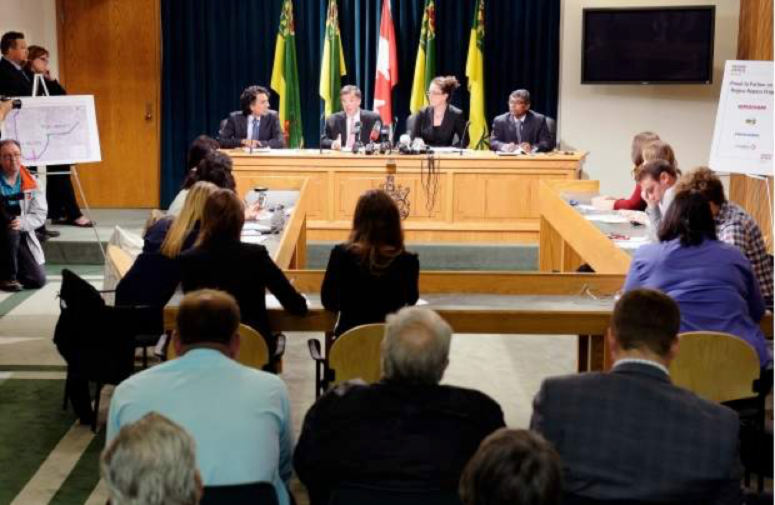 Mandryk: Regina Bypass a costly diversion

From left to right, Rupen Pandya, President and CEO of SaskBuilds, SaskBuilds Minister Gordon Wyant, Highways and Infrastructure Minister Nancy Heppner and Nithy Govindasamy, Deputy Minister of Highways and Infrastructure make an announcement about the financial details of the Regina bypass project at the legislative building on Wednesday. BRYAN SCHLOSSER / REGINA LEADER-POST

"Wasn't the Regina Bypass supposedly studied to death? So where are all these studies?

Didn't at least one of them offer Premier Brad Wall, Highways Minister Nancy Heppner or SaskBuilds Minister Gord Wyant a hint that the now-$1.88 billion bypass was costing about a billion dollars more than the estimated price two years ago — and nearly five times the initial $400-million price?

Didn't anyone think this information was worth sharing with taxpayers footing the bill?

In fact, if the Saskatchewan Party government is being completely forthright about costs, shouldn't it be telling taxpayers that the tab will skyrocket past $2 billion because it doesn't yet include the cost of acquiring land from 104 different owners? Why can't we get an estimate of those land costs?

Are the explanations for not knowing about these rising costs vaguely plausible? When the government and its army of in-house or third-party public-private partnership (P3) engineers were "studying this issue to death", none of them noticed the hundreds of pipelines and utilities that were going to have to be moved?
COSTS ARE SOARING ALONG WITH CONCERNS
Now that it appears we are paying an extra billion-dollars-plus, is there a reasonable explanation why the government refused to consider starting the bypass east of White City?

Wouldn't that have avoided the dangerous area of the TransCanada Highway where we've now reduced the speed limit to 90 km/h? Sadly, even that hasn't yet eliminated fatalities.

Is there truth to the Why Tower Road? group's claim that the province chose the Tower Road location to start the bypass simply because that is the location needed to ignite the federal government's $200 million contribution through the P3 program?

Is a measly $200 million from the feds on a $2-billion project fair?

We are talking about building a better TransCanada Highway so that Canadians can more easily truck goods from coast to coast. So shouldn't the first question Brad Wall asks Stephen Harper when he lands in Saskatchewan during the next 10 weeks of campaigning be: "Don't you think you owe Saskatchewan a hell of a lot more than $200 million?"

Shouldn't that be the question you, as a voter, ask the Conservative candidate who comes to your doorstep?

Critics are smelling something rotten here — a pungent odor, one hasn't whiffed in these parts since the NDP's $36-million pile of rotten potatoes called Spudco.
It is a moldy, rotting stench that happens whenever a government
covers up anything. And some are concluding that this Sask. Party
government is trying to hide something.
The first paragraph of the government's news release Wednesday tried to spin this nonsense: "By using a public-private partnership (P3) model the government will save $380 million, or 16.8 per cent."

Really? The costs of the bypass project have soared, from $400 million to $800 million in 2013, then $1.2 billion last year to $1.88 billion (not including land acquisition costs) in Wednesday's announcement. And the government has the temerity to conclude we're saving 16.8 per cent?
….In what world?
In fairness, some cost overruns might be expected in what is now Saskatchewan's largest-ever transportation infrastructure project.

Nor is completely fair to compare what Wyant and Heppner proposed Wednesday with how this bypass was envisioned in the past when it was simply a matter two years ago of diverting Victoria Avenue traffic at Tower Road around the south end of Regina to Pinkie Road. Adding interchanges at Pilot Butte, White City and Balgonie immediately doubled the cost to $800 million from $400 million.

But what's gone on here is about more than a few
forgotten interchanges or unaccounted costs.

We have witnessed government ministers arrogantly dismiss
and belittle critics like the Why Tower Road? group. And landowners
feel the government is taking the same approach with them.
Yet the government has maintained its stubborn attachment to the P3 funding that some believe dictated the Tower Road location. Is that funding conditional on the additional traffic flow that will result from building the 116-hectare Tower Crossing commercial/residential development recently approved by a city committee?

If it is, folks, the Sask. Party government's vision of a Regina bypass has evidently been based on commercial development close to it.

In other words, it was a vision already outdated two years ago when the government was still trying to convince us the bypass would cost one-fifth of its current price.
Studied to death? This is a mess."
Mandryk is the political columnist for the Leader-Post.
There is much more to tell. We have spent over 20,000 hours researching and documenting conversations, reports and planning surrounding this project. We have also tried to draw the public's attention to the issues in many different ways. From mobile vehicle billboards, dioramas, public gatherings radio messenging and printed advertising, the message has been out there for people to see and hear. For an in depth record of events and more detailed information,
CLICK HERE!